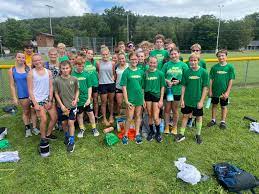 On a picturesque day filled with adrenaline and fierce competition, MCXC raced over the challenging trails of West Shamokin alongside the formidable West Shamokin Wolves and United. In thrilling Junior High races, the boys' team, led by the dynamic duo of Brady Haggerty and Colton Blazavich, emerged victorious against both teams, showcasing their exceptional talent. However, the girls' team, headed by Samantha Case and Clara Pollock, experienced a tough loss against United, despite their impressive win against West Shamokin.
Delving into the Varsity races, MCXC's boys dominated the competition, riding on the stellar performances of Evan Risinger and Seth Boring. The duo led their team to resounding victories over both West Shamokin and United, further solidifying their flawless record of 7-0 for the season. On the other hand, Lydia once again displayed her incredible talent, winning the girls' race with a remarkable kick. However, despite her outstanding individual achievement, the girls' team fell short against United, while still managing to outscore West Shamokin. With a commendable 5-1 record, the girls face the upcoming matches with determination and the thirst for redemption.
The dual meet season draws to a thrilling close next week as MCXC brings the excitement to home turf. The team is set to host Homer and Penns Manor on Wednesday, promising intense competition and thrilling races. As athletes and spectators alike eagerly await the highly anticipated event, MCXC aims to finish the season on a high note, leaving a lasting impression on their home field.
The MCXC coaching staff, led by Coach Peters, emphasizes the importance of teamwork, perseverance, and sportsmanship throughout the season. With unwavering support from their dedicated coaching staff, the MCXC runners continue to push their limits and strive for excellence, setting the stage for an electrifying conclusion to the dual meet season.
As the sun sets on the arduous trails of West Shamokin, MCXC stands proud of their impressive performances against fierce opponents. The season has been marked by countless victories, personal milestones, and the unwavering commitment of each team member. With only a few races left on the horizon, MCXC and its passionate athletes are prepared to leave it all on the course, fueled by the indomitable spirit of true champions.