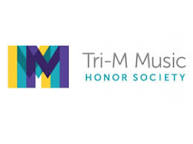 Here at Marion Center High School, we have two Honors Societies available during our club periods. Everybody knows about National Honors Society, but not as many know of the Tri-M Music Honors Society or know what we do.
So what is Tri-M? Tri-M is the only Honor Society available here that is only open to music students. These members are devoted music students who work to improve the existing music department, aid in growth and retainment of members, and overall show the rest of the school what we actually do down in the band and choir rooms. We are the only chapter in the county and our advisor, Mrs. Stolarz, has worked very hard for years to keep our chapter up and running.
Being a member of Tri-M also opens the door to many different opportunities for our members. Just last year, Allison Yeomans (class of 2023) was selected to attend the Tri-M Future Music Educators Symposium. This is a highly selective event put on by Tri-M for high school seniors who are moving on to college to major in music education. Students who are not going into music education or another sort of music major still benefit by joining the organization though. Just like any other Honors Society, you have to maintain good grades, collect service hours, and more to retain membership. This looks amazing on resumes and college applications for any major.
So what exactly do we do in Tri-M? Our first goal for the year is to make and put up locker tags for all students taking part in a musical ensemble this year. As soon as these are done, we will start working on other projects and decide what type of performances, fundraisers, or other events we want to plan for the year. One of the most visible things we do is celebrate Music in Our Schools Month during the month of March. We often do music trivia during lunch to garner school-wide participation, but we may try something new this year.
Overall, Tri-M is an amazing oppertunity for music students in our school and even if you aren't a music student, you should still look out for what we are doing because we may offer oppertunities for non-music students to participate too.
Congratulations to our Tri-M officers:
President- Brittany McIntire
Vice President & Induction Ceremony Chair – Charlie Marshall
Vice President & Committees Advisor – Carley Shoop
Secretary – RJ Gutierrez
Treasurer – Olivia Short
Historian – Carissa Adkins