Click here to watch Mrs. Bernat and Mr. Trimble Thrill The Audience!!! [Ms. Magill]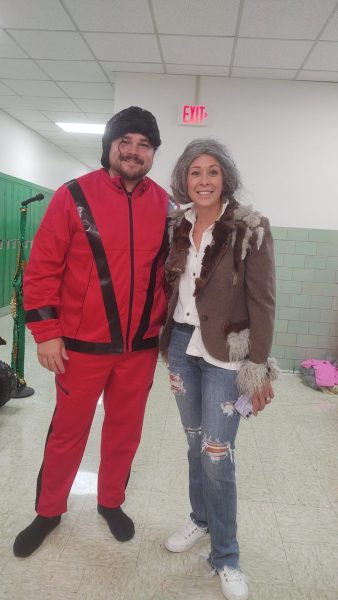 On Friday, October 13th, Mrs. Bernat, Mr. Trimble, and their backup dancers thrilled the audience during the teacher skit portion of the pep rally. The ironic part is that it was Friday the 13th, and Thriller refers to numerous horror movies. Their rendition of Thriller thrilled the audience. The actual song which was released on November 5, 1983, was Michael Jackson's sixth studio album.
Thriller was Jackson's first number-one album on Billboard, which spent 37 consecutive weeks at number 1. Thriller won 8 Grammy Awards, a Brit Award for Best Selling Album, an American Music Award for Favorite Pop/Rock Album, an American Music Award for Favorite Album Soul/R&B, and the 2002 Special Billboard Award.
Mr. Trimble who portrayed Michael Jackson says, "If you're going to do anything in life, go all out, even if you are going to embarrass yourself, embarrass yourself in a big way. Thanks to all the kids for their help and for their enthusiasm." Mrs. Bernat, the zombie-werewolf says, "When I was approached to be a part of the teacher court for homecoming, I jumped at the opportunity to be involved and do something fun. I am not a great dancer and know little about choreography, but I decided that there was no better way to learn than to give it a try. I always attempt to give 100% in all that I do, and this turned out to be no different. I am thankful that Mr. Trimble is a talented coach and was able to help me quickly learn my steps. Being a part of a school that values its students and provides fun opportunities like the homecoming pep assembly is so important to me and I am lucky to have the chance to participate. The teacher homecoming court afforded me a perfect opportunity to get involved and have some fun! I am thankful every day to work with the most amazing staff and students here at Marion Center, and I look forward to more great events in the future."