The 2023 Pennsylvania Enviroquest Competition, held last Friday, October 13 at Jennings State Park, brought together teams from schools across the state to showcase their knowledge of wildlife identification, assessment of water quality, and analysis of timber resources. Marion Center's Junior High team, consisting of Carissa Adkins, Addy Burns, and Colin Sacco, placed third overall in a field of twenty teams. Our Senior High team of Brooke Slade, Alex Creighton, PJ Shellhammer, Clayton Burns, and Natasha Burnett secured the grand victory of first place.
Mr. Collela, the advisor of Marion Center's Enviroquest teams, expressed his delight at their accomplishments, saying, "I could talk about them until I'm blue in the face. I am so extremely proud." 
"Finding participants was difficult," Collela mentioned, "due to several students' involvement in the homecoming activities held on the same day." But, with limited participation and a short-handed Junior High team, it became even more evident how dedicated and accountable our teams had to be held to achieve such success in this competition.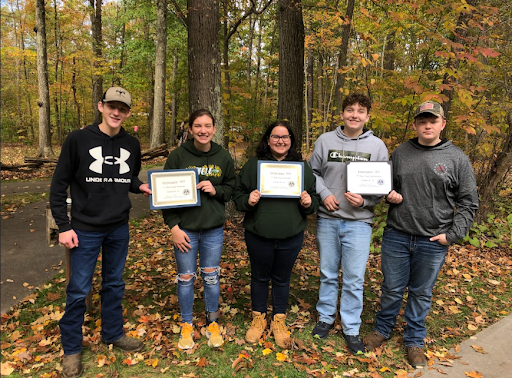 Marion Center has been competing in the Enviroquest competition for decades under the instruction of retired science teacher, Mr. Betts, with much success. Mr. Collela remarked that this was his first year advising the teams completely on his own, and to play this role in both teams' triumphs gave him a great sense of pride and promise in both this year's teams and the teams to come.
Let us all join together in congratulating our Junior and Senior High Enviroquest teams for their remarkable achievements!