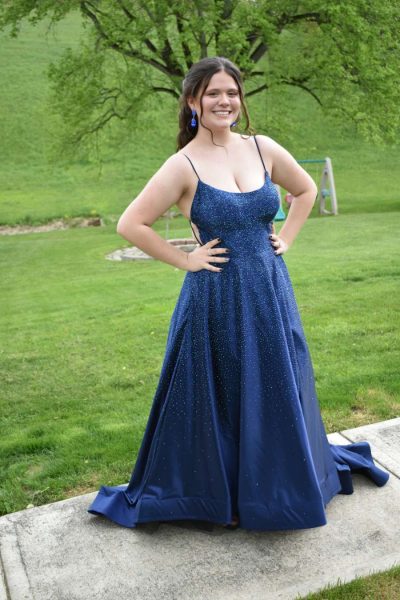 Marion Center High School is proud to shine the Senior Spotlight on Brittany McIntire, a talented and driven individual who has made a lasting impact on our school community. Known for her passion for music and dedication to her extracurricular activities, Brittany's journey at MCHS has been filled with growth, accomplishments, and cherished memories.
From a young age, Brittany had big dreams of becoming a pop star. Her imagination and drive fueled her aspirations, pushing her to explore her musical talents and chase after her goals. Reflecting on her journey, Brittany has learned an important lesson she would share with her younger self: "Don't let others' opinions determine who you are and what you are capable of." It is this resilience and self-belief that has propelled Brittany to achieve remarkable accomplishments during her time at MCHS.
One of Brittany's proudest achievements is her musical growth throughout high school. Over the course of six years, she has dedicated herself to various musical endeavors, resulting in vast improvements. Participating in Marching Band for three years, Choir for six years, and performing in Musicals for four years, Brittany has honed her musical abilities and developed a deep appreciation for these activities. Additionally, she has been a part of Jazz Band, National Honors Society, Tri-M Music Honors Society, Quizbowl, and Student Council, showcasing her commitment to a well-rounded high school experience.
When asked about her most enjoyable extracurricular activities, Brittany highlights Choir, Musicals, and Marching Band as her favorites. These activities have not only allowed her to pursue her passion for music but have also created lasting memories and lifelong friendships. She credits her involvement in these activities as key to the person she has become.
As Brittany looks back on her time at MCHS, she expresses a desire to change the year of online classes due to the COVID-19 pandemic. Acknowledging the difficulties of navigating half of her freshman year through remote learning, she longs for a more traditional high school experience. However, Brittany remains resilient and optimistic as she looks forward to attending Indiana University of Pennsylvania (IUP) to pursue a bachelor's degree in Early Childhood Education.
Beyond her academic pursuits, Brittany has a passion for singing, colorguard, and spending time with friends outside of school. These interests and hobbies reflect her vibrant personality and commitment to personal growth.
When reflecting on her favorite classes at MCHS, Brittany raves about her music classes with Mrs. Stolarz, which have been her favorites since seventh grade. She also praises Mrs. Berezansky's Creative Writing class, which has been a standout among her English courses. These teachers, along with Mr. Page, Miss Kalgren, Mr. Sturrock, and Mr. Hill, have greatly influenced Brittany's high school experience, nurturing her education and providing guidance along the way. She is grateful for the positive impact they have had on her journey.
Looking ahead, Brittany is eager to make new friends and experience the freedom that college life offers. However, she admits that the prospect of adulthood can be daunting and fears the responsibilities that come with it. Nonetheless, she remains focused on her ultimate career goal of becoming an elementary school teacher after completing her bachelor's degree.
To the underclassmen at MCHS, Brittany offers heartfelt advice: "Always stay true to yourself and trust the process throughout your high school career." It is this wisdom and authenticity that have helped shape her into the remarkable senior she is today.
As Brittany McIntire prepares to graduate from Marion Center High School, we celebrate her achievements, applaud her dedication, and eagerly await the bright future that lies ahead. The Senior Spotlight shines brightly on this talented and resilient individual, and we are excited to witness the next chapter in her remarkable journey.