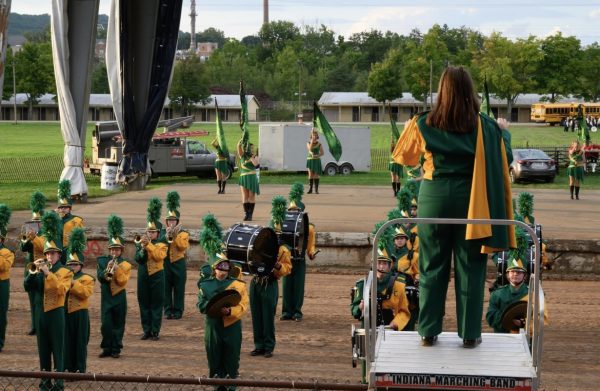 The Marion Center Area Marching Band has been working hard all season, and it's definitely paying off. They have performed their show numerous times, yet it continues to blow the audience away.
This year's half-time show, entitled "Night is Falling" features Night Changes by One Direction, Nights in White Satin by the Moody Blues, and Saturday Night's Alright (For Fightin') by John Elton. Their parade song is December of 1963 (Oh What a Night) by Frank Valli and the Four Seasons. That's not even including the countless stand tunes they have learned and performed at the football games.
The marching band has performed at all of Marion Center's Varsity Football games and at the end of the week, will be performing in the home game against West Shamokin, which will be their final performance of their show, as well as senior night for all Football, Cheerleading, and Marching Band.
They have taken part in several parades, along with performing at the Indiana, Oxhill, and Cookport fairs. They have yet to perform in the It's a Wonderful Life Parade in November.
Friday, October 13th was Marion Center's homecoming. Before the game, the marching band paraded down the streets of Marion Center, and during half-time, they performed Chorale From Jupiter by Gustav Holst (arr. Paul Murtha) as the homecoming court was introduced.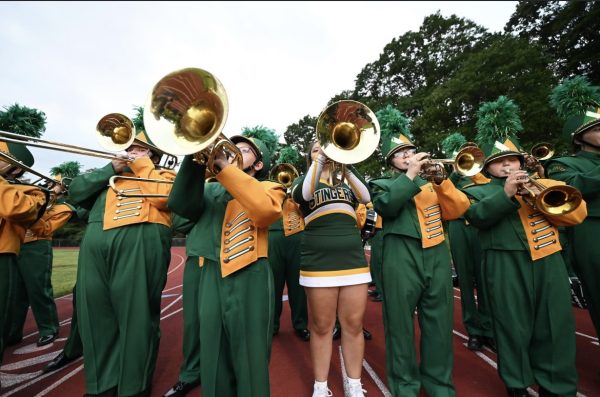 Mr. Page, the director of Jr./Sr. high band and of the Marion Center Marching Band does so much more than just lead the marching band, he arranges the majority of the music you hear at the football games and parades, coordinates all of the band's practices and events, and makes sure that every member of the band has what they need to be successful.
This year, the marching band has three outstanding drum majors: Carley Shoop, Mylene Buffone, and Sarah Moore. They have diligently taken on leadership roles in the Marion Center Area Marching Band. The members of the Marion Center Area Marching Band have put in a significant amount of time and effort toward every practice and performance. Seventh grader, Brooke Silvis says, "Marching band is fun and the best way to get out of class."
The marching band has laughed together, made music together, but most importantly, they've worked together as a team. The Marion Center Area Marching Band doesn't just make music. They mean it.
Keep up with the marching, jazz, and concert bands by following @marion_center_bands on Instagram.