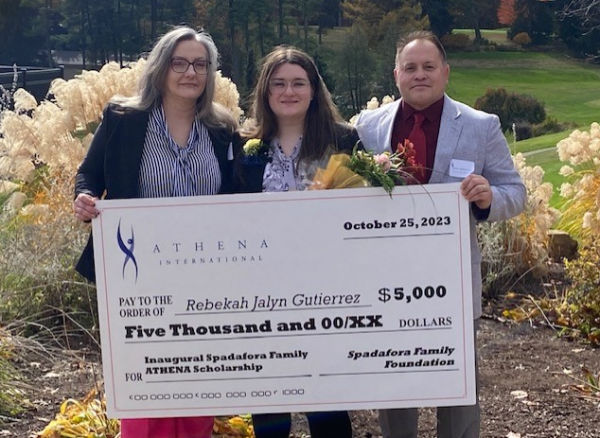 Wednesday, October 25th, Marion Center Athena Club members attended a luncheon at the Indiana Country Club. During this event, Rebekah Gutierrez, of Marion Center received the Spadafora Family Athena scholarship. 
The Athena Club strives to empower young women leaders and show them how they can succeed in life. Athena helps young women, even outside of Marion Center and Indiana, learn entrepreneurship and leadership skills to become successful in the advancing world. It helps young women's voices be heard and "create a balance in voices of leadership."
The scholarship has been awarded to many members including its most recent recipient, Rebekah Gutierrez since 1987. The scholarship awarded to Rebekah Gutierrez, and many others, is a $5,000 competitive scholarship in which the Spadafora Family donates to any high schooler of an Indiana County Athena club, who writes a written essay, receives recommendations for the scholarship, and is reviewed and accepted by a scholarship committee. The scholarship recognizes a showing of a leadership model. Some qualities it recognizes also are constant learning, acting courageously, giving back, and other qualities of leadership roles.
During this luncheon, Athena Club participants enjoyed delicious food from the Indiana County Country Club, made memories, and learned a lot during the luncheon meeting. "Going to the Athena Club luncheon, opened my eyes a little bit. The speeches opened my eyes to what I can succeed in doing and what I can do with my life to make a difference. It has motivated me to be the best version of myself I possibly can be. I made a ton of lifelong memories and I am so grateful for the lifelong positive impact it's made on my life." Molly Spence had said in an interview. Many had similar experiences to her. Above all, all of the young women who participated had a blast made memories, and learned so much during this trip.