And All That Jazz…
And All That Jazz…
Written By: Molly Spence
On March 17th and 18th, Marion Center Area High School performers presented their rendition of CHICAGO: TEEN EDITION. CHICAGO: TEEN EDITION is a satirical musical with origins in real-life, high-profile crimes and trials of the 1920s, and pokes fun at the idea of "celebrity criminals." Set in the roaring twenties, Prohibition-era Chicago, the story follows a young Roxie Hart and Velma Kelly. It starts when Roxie commits a murder and convinces her husband, Amos to take the blame. When Amos finds out he's been duped and turns on Roxie, she is convicted and sent to death row where she stays with other "Merry Murderesses" of the Cook County Jail. Roxie and another "Merry Murderess," Velma Kelly, compete for the spotlight, fame, and headlines. Along the way, Roxie is defended by a young Billy Flynn. In the end, Roxie and Velma join forces in search of fame, fortune, and acquittal, or what they deem the "American Dream". With famous songs like "All That Jazz" and "Cell Block Tango," audiences have continued to love the music, dancing, and "razzle dazzle" of the show for decades. 
With opening night and Saturday performances ending, the memories of those involved in the 22-23 musical, CHICAGO: TEEN EDITION, will never end. With standing ovations before bows for all three shows, laughs, smiles, and lots of tears bringing the 2022-23 musical season for Marion Center performers, to a sudden halt. All three shows were a major success. The seniors, Allison Yeomans (Velma Kelly), Maddie Buffone (Roxie Hart), Dillon Green (Billy Flynn), Alex Johnson (Amos Hart), Danielle Adams (Matron "Mama" Morton), and Sadie Juart (Annie)  finishing their musical careers here at Marion Center and begin thinking about their future careers outside of Marion Center.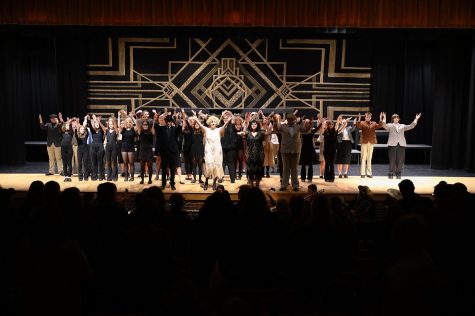 The musical called for 12 people, but the cast of MCHS's CHICAGO: TEEN EDITION included almost 60 people! Mrs. Stolarz, the director, says to the Stinger Newspaper, "I am so proud of this year's production of Chicago: Teen Edition. We had a very large student cast & crew with about 60 students to be in a production that only called for less than 20 roles, so it was a welcomed challenge to cast everyone. I think we did a spectacular job and all of the students involved had a blast with this show. Of course, I knew how iconic the original production is and I was excited to produce it in the 25th anniversary of the show, but I am blown away at the success and positive reception from the school & community! Everyone in the production worked so hard and I am so happy that our audiences loved the show. It's a great feeling to hear the roaring applause from the audience and see all 3 shows receive standing ovations! There is nothing better than to see the production come together and the connections made between all of the students. Being a part of something like this is a truly special thing that is difficult to put into words. It's a supportive, family environment, which makes MC Musical Theatre even more special and I am beyond proud of all of the students. It's an honor to work with so many dedicated students and a joy to see the growth in everyone through the process. Thank you to everyone who attended the show! It was so much fun to direct and perform for everyone… and All That Jazz!"
 For many, this was their first musical, and have gotten to see the inside of the production and got firsthandedly to experience all of the hard work, dedication, and the outcome of standing ovations. Mylene Buffone, whose been in the musicals for 3 consecutive years says, "Very fun. It was worth it in the end. It was worth all of the hard work." Above all, the performers had fun and the crowds loved the production and all that jazz, for the last time.